Joined

Jan 20, 2006
Messages

3,853
It took me a while to get these up but here goes. I picked up these NH 150 door and frame with latch for 100.00 apiece. It took alittle work to fit the bobcat cab but it can be done. Have @ 24 hours in complete install.
The belt guard and air filter assembly is removed for access.
I tapped a 3/8 npt hole in the thermostat housing and installed this brass fitting. There is a devider wall inside this housing so the hole must either be next to the head or on the left side. not in the middle
Bypass hose is where the coolant circulates back to the bottom of the block when the thermostat is closed. My cold return from heater T's into this hose with the restrictor in next photo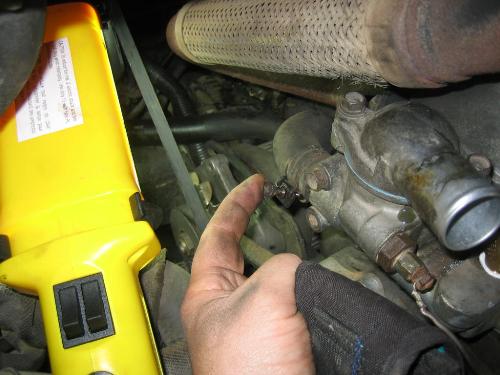 The nipple by my thumb is the line coming back from the heater core. The large hole by my finger goes towards the block. The unseen end of this T has a 3/8" hole that goes towards the thermostat housing
Return from heater is the one pointing up, RS is bypass hose back to block at the lower part of engine, LS is the 3/8" restrictor towards thermostat
This door was made for a NH ls 160 and was shortend at the bottom to work on the bobcat
Original door from 150
This flame had to be shortend to match the new door and trimmed extra material off so it was flat on the back side to bolt tight against the cab. Also all extra width had to be removed to squeeze the door onto the cab front.
I did not want to do this but the operators RH grab handle on the outside of the cab had to be removed to clear the width of the door.
This 12000 btu heater unit is about 7" cubed. Whick is a tight squeeze beside the seat. The heater core faces the side od the cab and I made a hole for it to draw fresh air in 6" by 6". The side against the seat holds the fan. I cut that wall out and flipped it over because the fan was hels by a concave cup in the center. No the center is convex, but I was able to move the entire wall of the heater cabinet 1" closer to the cab side, making clearance for the seat to slide.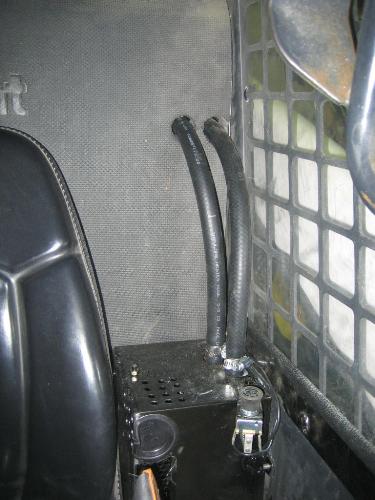 Side widows are just lexan fastened with bolts around the perimeter and a wire tie front and rear side of each window, about 1/2 way up around one bar in the side screen of the cab.
In the summer the door, frame and side windows can be removed in about 15 minutes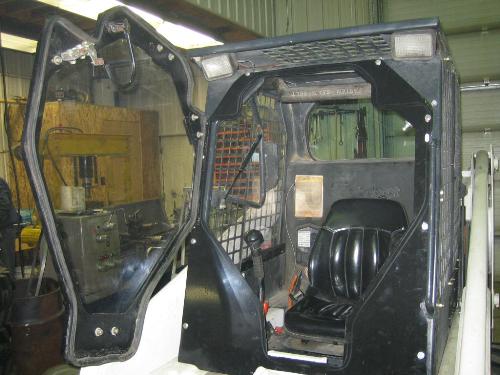 Ken